There is no such thing except in rare case as a family coat of arms. Coat of arms were awarded individuals, not surnames. However, you all voted on it and,..... I like it too!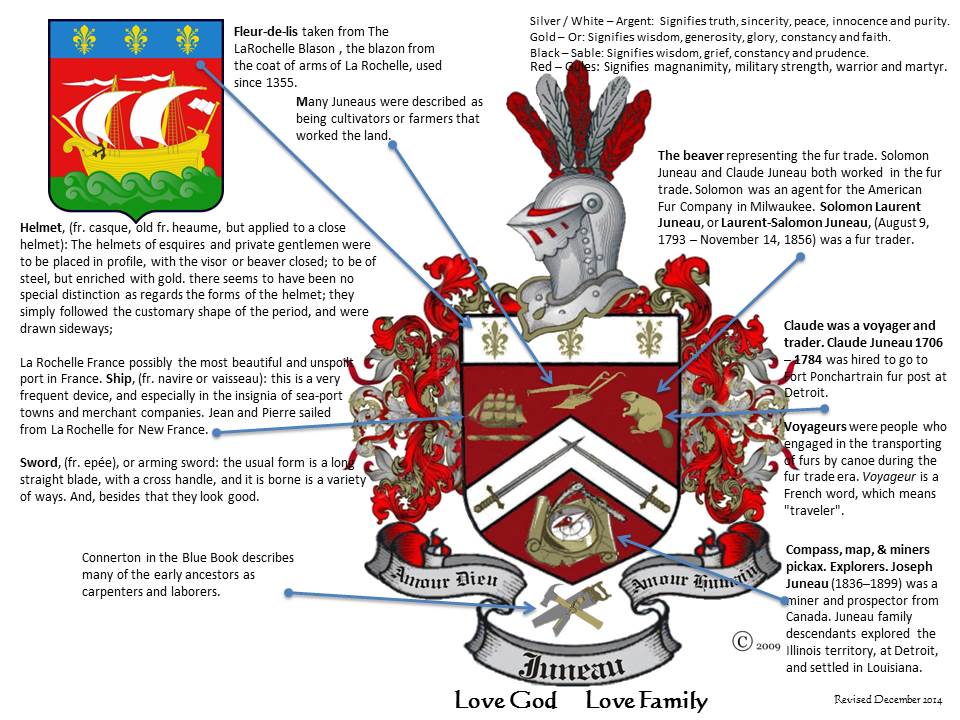 Juneau Family Coat of Arms
Have you ever worked on a project with the best intensions in mind only to find out that work was all for not? A question asked in one of the Board of Directors e-mails was, "do we want a Juneau family crest/coat of arms?" Well having designed one of course I jumped all over it and said yes, I had designed one, it was presented at the Diamondhead reunion.

If you have attended as many reunions as I have you would know a Juneau family crest was one of Virginia's pet projects. I think also, in every one of Virginia's newsletters a family crest had been mentioned and at every reunion it was a topic for discussion. At the 1999 Juneau Alaska reunion Virginia presented a Juneau family crest (top left), however, there were many comments. Some of the items of the crest didn't really represent the history of Juneau's fur trade, mining, and plight from LaRochelle; there were also other color preferences. With that in mind I came up with a crest (top right) and I have been using it on the Juneau Family U.S.A. facebook page now for some time. Having responded to the BOD's e-mail with a yes, and Dick Juneau ask me to do a presentation on the subject I decided I better do some research.

I had remembered from the Alaska reunion that Virginia had said she believed a family crest had been found in France, but didn't think we could get permission to use it and it would be costly. I really didn't understand what she meant until my research lead me to the answer. All of us have been badly misled.

We have been misled by people plugging the notion that 'family crests' or coats of arms belong to surnames, and that every surname has one if you dig hard enough. These people are lying to you. Family Coats of Arms and Surname Coats of Arms are only in the minds of the scam merchants who use manipulating marketing to con those who still believe in this myth and because some humans seem to think it 'makes them' look important these con merchants have a ready market in the foolish. A Coat of Arms is awarded to ONE individual; it belongs to him, not his family and never everyone who just happens to use the same surname in the world. There are many companies out there who will sell you your coat of arms on a t-shirt, mug, or 'handsomely engraved' plaque. If you look on the Internet there are entire catalogs full of such items! While these companies are not necessarily out to scam you, their sales pitch is very misleading and, in some cases, outright incorrect.

In common parance, heraldry (araldica) refers to the study of coats of arms. In the middle of the twelfth century, during the Norman rule of much of Italy, coats of arms developed as distinctive insignia painted on the shields of knights and other nobleman. In combat, friend or foe could identify the fully armored knight, whose face was concealed by a helmet, according to the colorful design on his decorated shield. The same design appeared on his surcoat-hence the term "coat of Arms." With time, the rights to use certain designs (blazons), as well as feudal titles (i.e. count, baron, etc.), passed from father to son. Since these insignia and titles are incorporeal property of particular families, it is obvious that unrelated families which by mere coincidence share their surname cannot claim these coats of arms or titles of nobility as their own. Unfortunately, there exist various firms, some of which conduct genealogical research, that have deceived thousands of clients into believing themselves to be in genuine possession of coats of arms or even titles of nobility. To bolster the credibility of such fraud, these agencies, including two well-known genealogical institutes in Florence, cite historical sources and sometimes attach familial lineages to their wares. Replete with ornate seals and signatures, these seemingly "official" documents provide the customer with little more than a fantasy-often at the cost of hundreds of dollars or pounds.

Coats of arms don't belong to surnames, but to bloodlines - the lineal legitimate descendants of a person who, at some time in history, was elite and important enough to be granted one. The detailed rules of who in the bloodline gets to inherit the coat of arms, and the alterations different members of the family have to make to differentiate their coats from each other vary from country to country, but the principle is the same everywhere. (The one part-exception to this is Poland, where coats of arms belong to clans rather than individuals. But even in Poland just having a surname isn't good enough - you have to belong to the clan - and only noble clans had them, not the peasants.) And, only a tiny minority of Europeans ever had coats of arms. Ownership of coats of arms was more widespread in some European countries than others - in some it was strictly a preserve - indeed, a badge and proof - of aristocracy; in others it was quite normal for the well-off bourgeoisie to have them. But the vast bulk of the population, the peasants, laborers and artisans, didn't dream of having them.
http://genealogy.about.com/od/basics/ss/…
The next time you come across a product or scroll with a family coat of arms for your surname, remember that just because your surname is SMITH, for example, doesn't give you the right to any of the hundreds of coats of arms borne throughout history by others named SMITH. Therefore, how could an individual or company that has not researched your direct family tree know whether you have inherited the right to display a particular coat of arms? If you're looking for something fun then these items are OK, though misrepresentative, but if you're looking for something from your own family history, then stay away! If you would like to learn if a coat of arms was awarded to your ancestor, you may want to try contacting the college of Arms or appropriate authority for the country you believe your ancestor was from and request a search in their records (they usually provide this service for a fee). In most countries you can design and even register your own individual coat of arms based on the arms of someone who shared your surname, or from scratch to mean something special to your family and its history.

With the above in mind, do we want a Juneau Family Coat of Arms? Yes, as voted upon June 22, 2014!